It is great for you too!
Android-based devices never present status. There's no secret in it.
Some of them show incredible battery life like Xiaomi and OnePlus. Pixel and Huawei phones are well known for their outstanding picture-taking abilities and post-processing algorithms. Samsung devices have unique features like styluses or Dex functionality as you can turn your device into the computer by connecting keyboard, mouse, and external screen.
There are Android devices popular among specific areas. Samsung Flip line is for early adopters and Youtube celebrities as they look innovative. Pixel and OnePlus – security, as they are most frequently updated with fixes, patches and have the longest support for new operating systems.
Samsung is not the best in any area but until recently they were considered the main Android go-to choice of devices for their ecosystem.
There's not the case anymore.
With its latest Xiaomi Redmi Note 10 line, the company places the crown on top of the long-built kingdom of long-lasting, all-around capable, modern yet very affordable phones.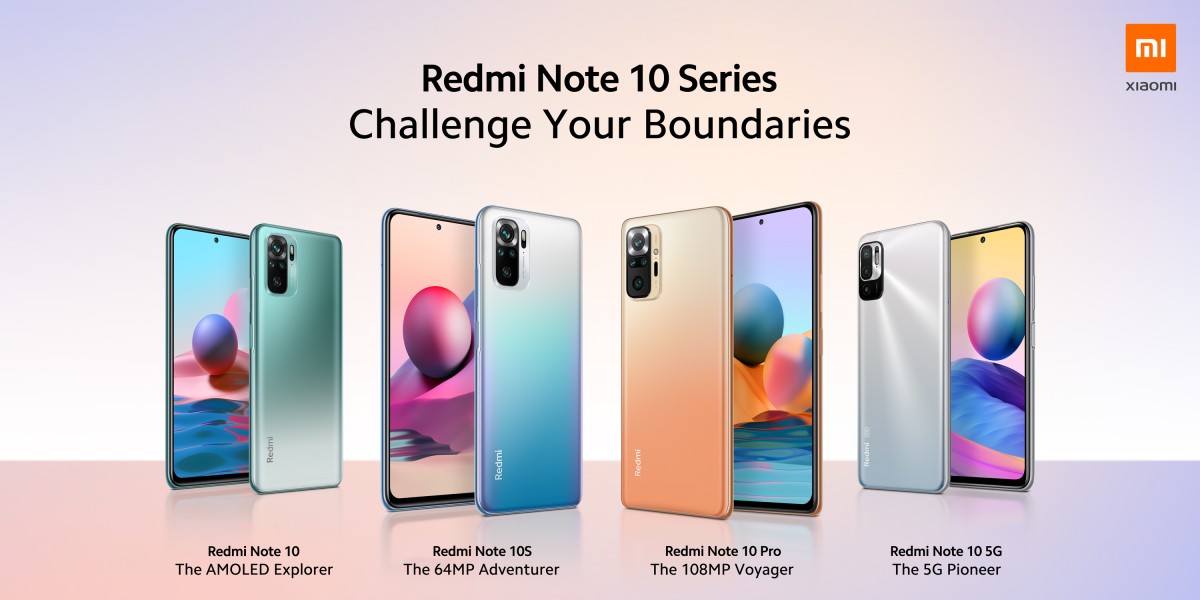 Xiaomi unveiled the Redmi Note 10 series for the global market. The phones are mostly similar with a few notable changes. The company is very recognizable for its crowded lines and subbrands of devices.
Note 10 is no exception.
The Xiaomi Redmi Note 10 Pro has the best screen in the family, also the biggest – a 6.67" AMOLED panel with HDR10 support and 120Hz refresh rate. It has the best main camera too with a 108MP sensor.
There's also the Redmi Note 10 5G. It prioritizes next-gen connectivity over the display, camera, and even performance. The display switches to a 6.5" IPS LCD with 90Hz refresh rate and the main camera has a 48MP sensor.
You will notice no difference in any Redmi Note 10 device. They will be enjoyable and modern. As a matter of fact – Note 9 will satisfy you too. Do not forget Redmi Note 8 which is a very capable still.
Let's go through the main features carefully and review them.
Megapixels (camera)
Since the very beginning, Nokia and BlackBerry phones had very impressive camera results. With just 3.5 megapixels these devices could deliver outstanding photos.
Since then nothing really changed.
High-resolution lenses bring a lot of details and provide the ability for image editing in Photoshop. Large apertures of f/1.7 and f/1.8 let a lot of light in thus making pictures better and providing low light photography. There are many modern devices that manage to win our hearts with f/2.2.
Short reaction time from the point shutter button is pressed to the point the image is taken bring less blurry images of moving objects as well as the framing you were planning to receive and not the moments later.
HDR and scene recognition are the new and most important players.
In other words – camera resolution itself does not bring value except dry number-to-number comparison made on paper.
Megahertz and chipsets (performance)
Mobile devices' performance is way beyond the needs of 99% of users. In case you are not a heavy gamer, using 2 years old phone will make no difference in terms of performance.
For most gamers, many applications don't require the maximum level of speed.
Screen refresh rate (picture consumption)
The refresh rate is intended to bring smoothness in the scrolling of content, articles, and social network feeds.
It is great and people love it but not many people will notice the difference. Most of the consumers don't recognize a difference in resolution as well.
5G (Connectivity)
Having a fast-performing connection is a good thing but the mobile infrastructure is not developed yet to provide a good 5G coverage.
In cases the connection is high to the standard, consumption of content is less than required. Old good 3G will satisfy most of the users.
Confused?
Don't be!
For a long time, we have been paying for numbers nobody needs.
What is truly important for your daily needs?
The latest operating system is a must. All modern Xiaomi devices have Android 11 out of the box.
The external memory slot is very good for heavy storage consumers and professionals (IT, insurance agents, financing, content creators).
3.5mm headphones jack – yes, it is still important as people have a lot of wired headphones.
And, you know what? We bet you know how frequently children break things. What is more affordable to replace? The answer is obvious – wired headphones are much cheaper.
Bluetooth 5.0 – very important for great connectivity.
Fast charging – all of the devices feature very fast charging. It would be nice to have wireless as it saves you from carrying cables around but a single charge can keep you easily through the entire day (which is much longer than Samsung devices – according to our tests of the same usage patterns).
Affordability – all the phones are listed at around $200 – $250 depending on what country you're in.
Quick repairs
"iPhone, Xiaomi and Samsung – these are the only 3 brands you would need on the market" a repair technician told us. "iPhone for Apple ecosystem, Samsung for brand name and Xiaomi for concious consumers."
So, what do you kids need?
They need a modern device that is capable, affordable, modern, and can serve you 2-3 years forward.
As the screen gets cracked or the phone gets lost, it should not take a fortune to replace or repair them.
Xiaomi checks all the important boxes in this equation.